Fill out the form below and a member of our team will reach out to you as soon as possible.
Garage Door Opener repair
#1 Garage Door Opener Repair Service in Houston, TX
Do you have an unresponsive garage door? It can be extremely inconvenient to switch to manual opening. Fortunately, you don't have to. Here at Garage Door Doctor, we offer the fastest and most efficient garage door opener repair service in Houston, TX.
We can repair all kinds of garage door opener problems, from simple reprogramming to deeper adjustments and parts changing.
We are the garage door opener company you can count on to arrive on time when your garage door opener needs urgent intervention. Our highly qualified can inspect the door opener, recommend fixes, and complete the repairs within minutes.
Are you searching "contractor for garage door openers near me" in Houston, TX?
Call Garage Door Doctor today to book an appointment with our expert team.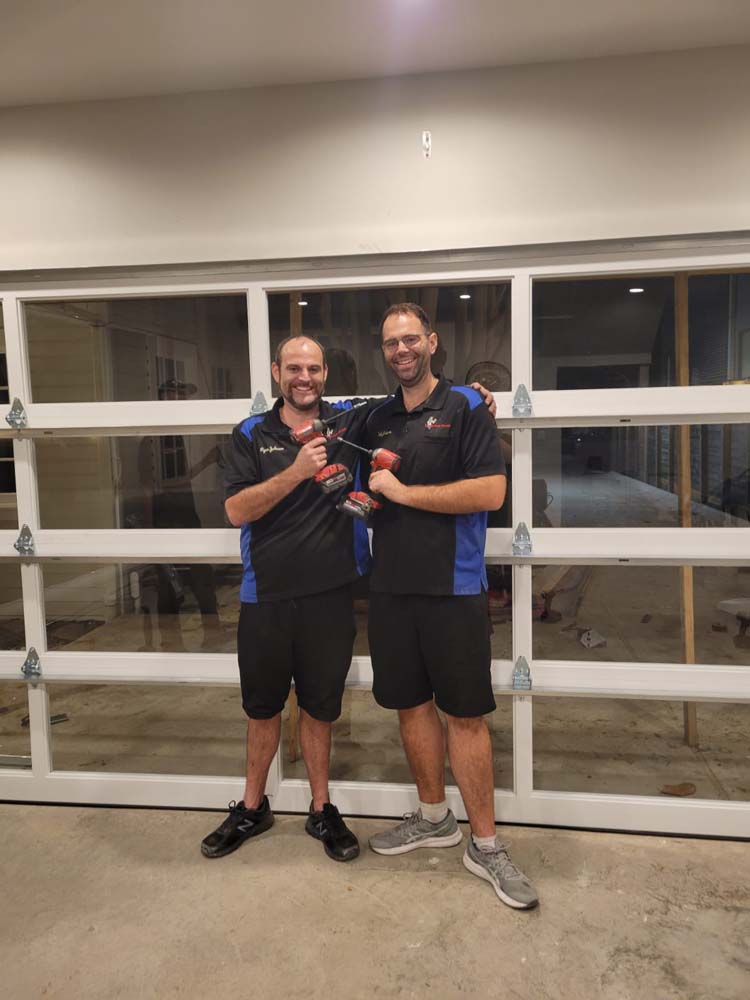 Your Local Garage Door Opener Repair and Installation Experts in Houston, TX
The garage door opener is an integral part of your garage door system. Without the opener, closing and opening your garage door will be a little more difficult. Therefore, it's essential to act quickly when it breaks down.  
If you live in Houston, TX, your safest option is to contact the Garage Door Doctor team. We have nearly four decades of experience working on garage door openers and garage doors in general. Therefore, no garage door problem is too big for us.
When repairs won't work, we'll recommend a replacement. This is especially true for garage door openers older than ten years. For these units, it is generally more cost-effective to replace them when they break down if you have to source replacement parts.
Some complaints we hear when people call us for garage door opener repair include the following:
"My wall switch doesn't control the door."

"The door doesn't fully close or open"

"The door opener doesn't operate the door anymore."

"The door reverses before fully opening or closing" 

"The garage opener motor is working, but the door isn't moving."

"The keypad doesn't work anymore."
Every time we receive such calls, we resolve the problem with minimal fuss.
Let us solve your garage door opener problem today!
Top Reasons Why Garage Door Openers Stop Working
Below are some of the top reasons for garage door opener failure:
Garage Door opener problems
Why You Should Act Quickly When You Have Garage Door Opener Problems
When your garage door opener breaks down, it's either your door stays shut or it stays open. Either way, you can't afford to ignore the problem for too long. If the door is open, here's what might happen:
Burglars can gain access to your home

Some animals may take up space in the garage when you're not looking

Wind and water can wreak havoc on your belongings
If the garage is closed and can't open, here's what might happen:
Your vehicle parked outside could get vandalized

You may not be able to access items in the garage
Thus, it's in your best interest to move quickly when you spot problems with the garage door opener.
Garage door opener repair
Should You Call a Garage Door Opener Repair Professional or Choose the DIY Route?
At a time when DIY tutorials on how to fix garage door openers are everywhere, it can be tempting to fire up a video and attempt to fix your garage door opener problem on your own.
However, we advise against DIY garage door opener repairs, and for good reasons. 
Top Reasons to Avoid DIY Garage Door Opener Repairs
DIY garage opener repairs cause many injuries each year. It's very dangerous to attempt handling an object that weighs over 400 pounds without adequate training. The springs in the door generate over 1000 pounds of force when raising or lowering the door.

Consider what that level of pressure or that much weight can do to the bones and flesh in the event of an accident. It's always safer to hand over the job to real professionals.
There's only so much DIY tutorials can capture. If you don't have handyman experience, it may be hard to follow the instructions. Also, the cost of renting or buying tools you'll need to do the job often cancels out any potential savings you had in mind by choosing to complete the repair on your own.
Many people go the DIY route because they'd like to save some money. However, unless the garage door opener problem is something as simple as cleaning the sensors, you may end up spending even more than it will cost to hire a qualified technician.
Think about it: How much will you spend on hiring the materials? How much will you lose if you buy the wrong parts or end up causing more damage to your garage door opener?
When you hand over your garage door opener repair to Garage Door Doctor, you can avoid these problems.
We always fix your garage door problems within the first visit. With more than three decades of industry experience, we don't need to fumble around or guess the possible causes of your garage door opener's problems.
Save yourself from potential injuries by working with true professionals today.
Why Choose Garage Door Doctor for Garage Door Opener Repair in Houston, TX?
At Garage Door Doctor, we have amassed thousands of reviews from happy customers in the area. All our customers choose and trust us because we offer the following:
Quality workmanship

Use of top-class repair and replacement materials

Professional and highly responsive team of problems

Free on-site estimates

Workmanship guarantee on every project
Choose the Top Garage Door Opener Repair Team in Houston, TX
If you're looking for a garage door opener repair company you can depend on for repairs on commercial and residential doors, Garage Door Doctor is the top choice. We make light work of all common and uncommon garage door opener problems, reducing downtime and securing your property.
We also offer a full range of garage door solutions. So, whether you need garage door opener inspection or garage door opener service and maintenance, you can trust us to deliver.
Call Garage Door Doctor today at (281) 855-9300 to book an appointment for your garage door opener repair in Houston, TX.