Welcome to Garage Door Doctor - Your One-Stop Garage Door Solution in Barker, TX
At Garage Door Doctor, we pride ourselves on providing top-notch garage door repair and installation services to the residents of Barker, Texas. With our expert team and unmatched customer service, we'll ensure your garage door is functional, stylish, and secure. Call us today at (281) 855-9300 to schedule a service or get a free quote!
As a locally-owned and operated business, we understand the unique needs of Barker homeowners. We're committed to delivering the highest quality products and services while maintaining affordable prices for our valued customers. From routine maintenance to complete overhauls, Garage Door Doctor has got you covered. Trust us to keep your garage door running smoothly and safely for years.
Emergency Garage door repair
Emergency Garage Door Repair in Barker
Are you dealing with a broken garage door in the middle of the night or on the weekend? Don't worry! At Garage Door Doctor, we offer 24/7 emergency garage door repair services in Barker. Our experienced technicians are always on standby to respond to your urgent garage door needs promptly and efficiently.
With our fully stocked service vehicles, we're prepared to handle most repairs on the spot, minimizing downtime and inconvenience. When you choose Garage Door Doctor for your emergency repair needs, you can rest assured knowing that your garage door will be back in working order as quickly as possible.
comprehensive garage door repair
Comprehensive Garage Door Repair Services
Whether it's a noisy garage door or a malfunctioning opener, our skilled Garage Door Doctor technicians can handle all garage door repair issues. From broken springs and cables to damaged panels and rollers, we'll make sure your garage door is back in working order quickly.
In addition to our expert repair services, we offer routine maintenance to keep your garage door functioning smoothly and prevent future issues. Our technicians will inspect and fine-tune all components, ensuring your garage door remains safe, efficient, and reliable for years.
Door Garage Repair and Replacement
Is your garage door outdated or beyond repair? Garage Door Doctor offers high-quality door garage repair and replacement services in Barker. We carry many stylish and functional doors to suit all preferences and budgets. Choose from various materials, designs, and colors to enhance your home's curb appeal.
Our professional installation team will ensure your new garage door is installed correctly and securely, providing you with a seamless, hassle-free experience. We also offer comprehensive warranties and ongoing support, so you can have peace of mind knowing that your investment is protected.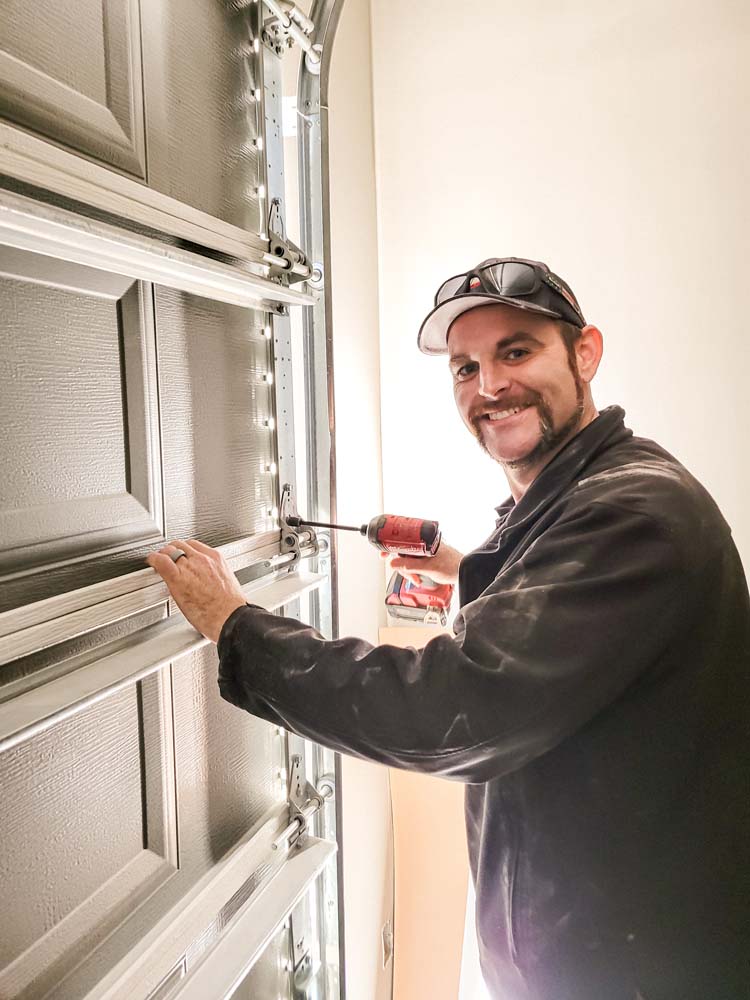 garage door repair near me
Find the Best Garage Door Repair Near Me
Are you looking for a reliable garage door repair service in Barker? Garage Door Doctor is just a call away! With our fast response times and commitment to customer satisfaction, we're the best choice for all your garage door repair needs. Don't settle for less; trust the experts at Garage Door Doctor.
As a local business, we prioritize our Barker customers and strive to build long-lasting relationships based on trust and quality craft. When you choose Garage Door Doctor, you can expect personalized service and expert advice tailored to your garage door needs. Experience the difference for yourself – call (281) 855-9300 today!
Exploring Barker's Attractions and Landmarks
Barker, Texas, is a charming community with a variety of attractions and landmarks that cater to both residents and visitors. Some of the area's most popular attractions include:
George Bush Park: A vast park with a multitude of recreational opportunities, including hiking and biking trails, sports fields, playgrounds, and picnic areas. The park also features a shooting range and a beautiful wetland habitat for local wildlife.
Barker Reservoir: A serene reservoir offering an idyllic setting for outdoor enthusiasts who enjoy fishing, birdwatching, or simply taking in the picturesque views. The reservoir is surrounded by lush greenery, making it an ideal spot for a relaxing day out in nature.
Typhoon Texas Waterpark: This exciting waterpark is a family favorite, featuring a variety of thrilling water slides, a lazy river, a wave pool, and a splash pad for younger children. Typhoon Texas Waterpark is the perfect destination for a fun-filled day with the whole family.
Forbidden Gardens: A unique outdoor museum that showcases replicas of famous Chinese landmarks, such as the Forbidden City and the Terracotta Warriors. The Forbidden Gardens offer a fascinating glimpse into China's rich history and culture.
Mary Jo Peckham Park: A beautiful park that offers a variety of recreational facilities, including a fishing pond, playgrounds, walking trails, and an indoor swimming pool. Mary Jo Peckham Park is an excellent place for families to spend a day enjoying the great outdoors.
Tips on How to Choose a Professional Garage Door Repair Company in Barker
Finding a reliable garage door repair company in Barker can be challenging, but it's essential to ensure the safety and functionality of your garage door. Here are some tips to help you choose the exemplary garage door repair service:
Research and Compare: Check past customers' online reviews, ratings, and testimonials. Compare the services and prices different companies offer to make an informed decision.
Experience and Expertise: Choose a company with a proven track record and skilled technicians who can handle various garage door issues, from routine maintenance to complex repairs.
Local and Licensed: Look for a locally-owned and operated business that understands the specific needs of Barker homeowners. Ensure the company is licensed and insured to protect yourself from potential liabilities.
Fast and Reliable Service: Opt for a garage door repair company that offers prompt response times, especially for emergencies. A reliable company should be available 24/7 to address your garage door needs.
Customer Satisfaction Guarantee: A reputable company will prioritize customer satisfaction and offer craft and product warranties. It ensures you receive high-quality service and support even after the job.
Following these tips, you can find Barker's best garage door repair company to suit your needs. Trust Garage Door Doctor for all your garage door repair and installation services – call us today at (281) 855-9300!
Why Choose Garage Door Doctor?
Regarding garage door repair and installation services in Barker, Garage Door Doctor is the trusted choice. With our experienced team, state-of-the-art equipment, and commitment to customer satisfaction, you can count on us for all your garage door needs. Call (281) 855-9300 today to schedule a service or request a free quote!
Our expert Garage Door services include: